Wallpaper is a brilliant way to add personality to your home. However, wallpapering a whole room can be too fussy for some tastes, as well as being expensive. If you aren't ready to take the plunge with wallpaper, we encourage to dip your toe:
Create a feature wall with wallpaper. Good places for small amounts of paper are fireplaces, in alcoves or behind the bed.
Wallpaper a small loo. A toilet that is wallpapered with bright and bold wallpaper can delight everyone who uses it, especially guests. However, avoid rooms with showers or baths because your beloved wall art will peel (!).
If you really want to be bold, you can use wallpaper to decorate your staircase (see images below).
Staff picks
We have a large range of wallpaper books in-store, which we can order in for our customers. For more information and prices, please contact our shop via phone or email.. Here are some of our staff's favourite wallpapers right now:
Manuel Canovas: Trellis Range:
The Manuel Canovas trellis wallpapers come in a range of patterns and bright shades. While some wallpaper can be too ornamental and fussy, we find these popular patterns can give a room a fresh, modern feel.
Baker Lifestyle: "Latika" paisley wallpaper:
When used in a muted tone, such as "ivory-silver"(first image) or "dove-charcoal", this paper can give a neutral room a subtle bohemian touch. However, the brighter versions of this wallpaper (see "festival" colour in image three), are also great if you want to make a bolder statement.
Zoffany: Peacock Garden
This eclectic wallpaper is more like a mural. It comes in a range of shades, and is perfect for a feature wall in an old or a new home, if styled correctly.
Cole & Son: Florencecourt:
In recent times, banana leaf and fern wallpapers have become quite fashionable. However, this elegant leafy alternative is sure to please for years to come. It comes in a range of shades, from minty green to moss green.
Cole & Son w/ Fornasetti: Mediterranea and Malachite
Excellent wallpaper meets exclusive design! Cole & Son teamed up with Italian design house Fornasetti to create some truly beautiful art for your walls. Our favourites right now are Mediterranea: depicting a monochromatic pattern of terracotta houses, and Malachite: a hypnotic pattern inspired by the copper mineral.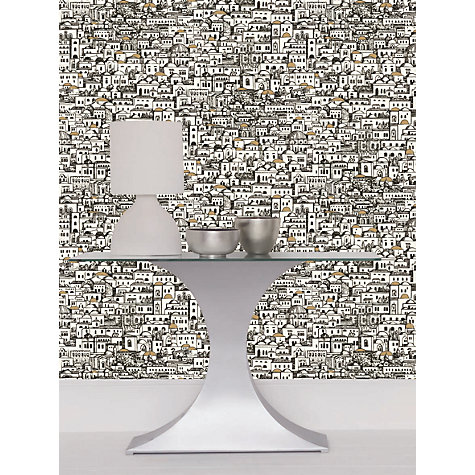 We hope you are inspired to take on your own wallpaper project! Feel free to contact us for more information, or to call into our shop in Kilmacanogue to browse the rest of our vast wallpaper library.

All the best,

The Ryle & Co Team